Sedation Dentistry – Glenpool, OK
Feel Relaxed & Comfortable in the Dentist's Chair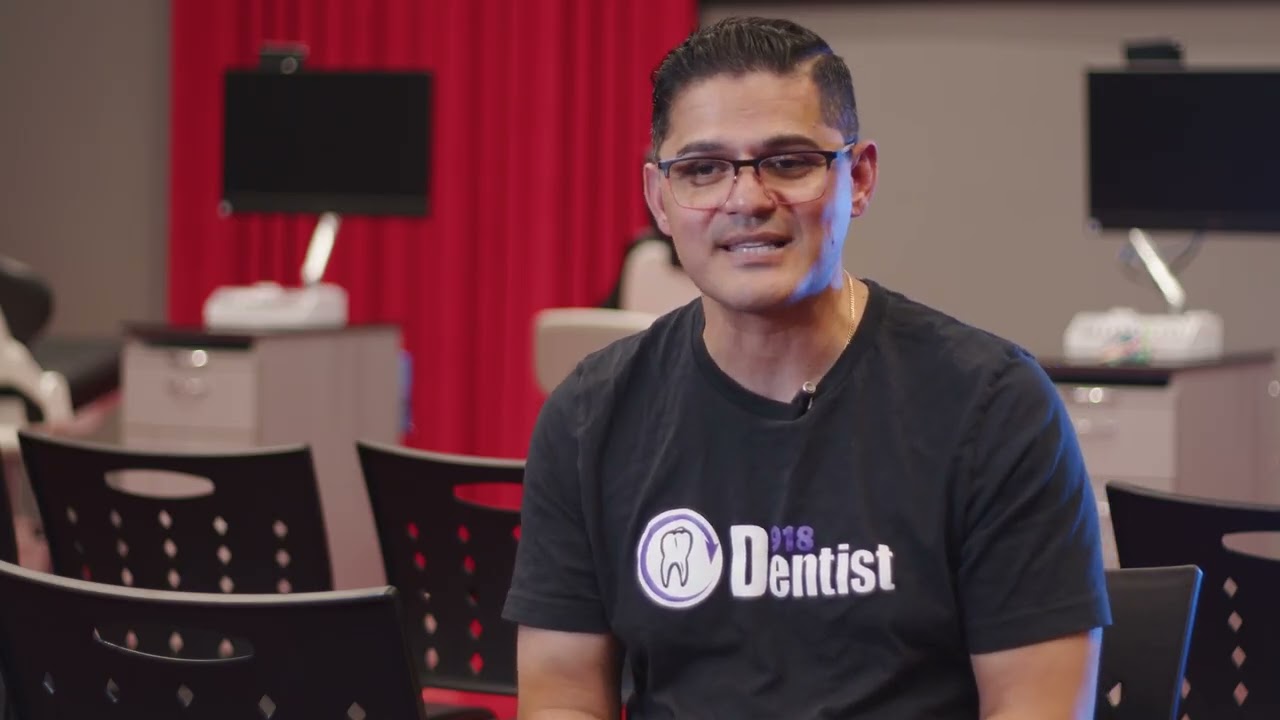 One of the most common fears people have is the fear of going to the dentist. Just as with any other fear, there is a wide range of apprehension from a little nervousness to full-blown phobias. Some patients may avoid the dentist altogether, even when tooth pain begins to affect their everyday lives. Don't let your fear negatively impact your quality of life. Whether your anxiety stems from a past experience, or your fear seems to have been there all along, our dentists and friendly team can help you overcome your panic to get the dental care you need with sedation dentistry in Glenpool, OK. If you're ready to feel relaxed and comfortable in the dentist's chair, give us a call today to see if dental sedation is right for you!
Why Choose 918 Dentist of Glenpool For Sedation Dentistry?
#1 Certified Sedation Dentists
#2 Multiple Levels of Sedation Offered
#3 Treatments Personalized for Optimal Comfort
Why Should I Consider Sedation Dentistry?
Recent clinical research points to a strong link between oral health and your overall health. People with dental problems, such as gum disease and cavities, are at a greater risk for serious conditions, including heart disease, diabetes complications, memory loss, stroke, and low birth weight babies. If you're afraid to visit the dentist, minor dental issues that are easily treated (such as cavities) can become much more invasive diseases that could potentially shorten your life. With today's sedation dentistry techniques, you no longer have to fear going to the dentist. In fact, your visit can be a completely comfortable experience.
Dr. Mohanna and Dr. Georgy are certified in sedation dentistry and the use of oral sedatives specifically designed to combat dental fears and the pain associated with certain procedures. Not only does this type of sedation dentistry block the pain of dental procedures, but we can also use them to alleviate the general anxiety of your dental visit.
Nitrous Oxide Sedation
Compared to other types of sedation, nitrous oxide takes effect quickly and wears off soon after it stops being administered. That means you won't have to rely on someone else to drive you to and from your appointment. While we're working on your teeth, you'll breathe in the nitrous oxide gas through a mask placed over your nose; we can adjust the level of sedation as needed throughout the procedure.
What Is Nitrous Oxide?
Nitrous oxide, commonly known as "laughing gas," is a colorless, odorless gas that is used to help patients undergo extensive dental treatment comfortably or overcome dental anxiety. Considered a safe and effective sedation method for adults and children alike, nitrous oxide mixed with oxygen produces a pleasant feeling of euphoria that spreads through the body and reduces worries.
The many benefits of nitrous oxide sedation include:
Extremely safe
Fast acting
Easily administered (no needles!)
Quick recovery
Minimal or no side effects
How Does Nitrous Oxide Work?
Your experienced sedation dentist in Glenpool Dr. Mohanna will place a small mask over your nose and turn on the gas. Within minutes of inhaling nitrous oxide, you will begin to feel extremely relaxed and in a pleasant mood.
Once the effects of nitrous oxide have fully set in, Dr. Mohanna will begin performing the planned dental treatment. You will remain conscious through the procedure and will be able to respond to any questions or comments from Dr. Mohanna, but you will not feel any discomfort.
When your dental treatment is complete, Dr. Mohanna will turn off the gas and remove the mask. The effects of nitrous oxide wear of swiftly, so in a matter of minutes you will feel complete alert and ready to continue on with your day. It is even safe for patients to drive themselves home or back to work after treatment involving nitrous oxide sedation!
Who Is a Good Candidate for Nitrous Oxide?
Most healthy adults can safely receive nitrous oxide to help ease their nerves at the dentist's office. You may be a good candidate for nitrous oxide sedation in Glenpool if you:
Feel extremely anxious at the thought of visiting a dentist
Have a strong gag reflex that could interfere with dental treatment
Have a phobia of needles
Have difficulty sitting in the same position for more than a few minutes
Have a traumatic past dental experience
In addition, nitrous oxide is also recognized by the American Academy of Pediatric Dentistry as safe for children who need dental treatment. Nitrous oxide sedation can be especially helpful for young children who have trouble sitting still for long periods of time or who are afraid of visiting the dentist.
Who Doesn't Qualify for Nitrous Oxide Sedation?
Although nitrous oxide is extremely safe when administered by a sedation dentist in Glenpool, there are still some patients who may not be good candidates for this type of dental sedation. In general, nitrous oxide is not recommended for patients in the following scenarios:
Pregnancy
Respiratory disease
Sinus congestion (which can prevent the full effects of sedation)
Certain medications
If you experience dental anxiety and want to know if you are a good candidate for nitrous oxide sedation, contact our dental office today !
Oral Conscious Sedation
With oral conscious sedation, overcoming anxiety and completing your dental treatment is as simple as taking a pill! This safe and common form of dental sedation is taken before your appointment and will help you relax in the dental chair. Call our office today to see if oral conscious sedation in Glenpool is right for you!
What Is Oral Conscious Sedation?
Oral conscious sedation is normally prescribed when nitrous oxide is deemed insufficient to overcome your anxiety or discomfort. You'll be given special medication that you'll ingest at a set point in time before your procedure. As the medication takes effect, you'll start to feel extremely relaxed. You won't care about anything going on around you during your treatment, and time will seem to pass very quickly. Despite this, you'll still be able to answer our questions and follow directions.
How Does Oral Conscious Sedation Work?
Before your appointment, you'll take the medication your sedation dentist in Glenpool decides is right for you. It's a prescribed oral medication and you'll be given a specific time to take it, usually about two hours prior to your visit. It's important that you have a friend or family member to drive you to and from the appointment. When you arrive, you'll feel very relaxed, and we'll show you to the operatory for your procedure. The doctor will keep a close eye on how you're feeling, and because this type of sedation dentistry allows you to be awake, you'll be able to communicate with us about your level of comfort. The effects of oral sedation will wear off after a few hours, so you'll be feeling yourself shortly after your appointment.
Are You a Good Candidate for Oral Conscious Sedation?
You may benefit from oral conscious sedation in Glenpool if you:
Suffer from dental fear, anxiety, or nervousness
Regularly cancel or reschedule appointments because they're nervous about receiving bad news
Have a sensitive gag reflex
Are receiving multiple treatments or one longer treatment in one appointment
Have difficulty keeping their mouth open or sitting in the treatment chair
Have difficulty getting numb with local anesthesia
Have had bad dental experiences in the past
Ask Dr. Mohanna or Dr. Georgy if you have more questions about oral conscious sedation.
IV Sedation
For those with moderate to severe dental anxiety as well as patients scheduled to have several extensive procedures, Dr. Mohanna and Dr. Georgy offer IV sedation. With this type of sedation, medication is delivered through your veins. As soon as the sedative enters your bloodstream, you will immediately feel relaxed and comfortable. Many people believe they've slept through their appointment, but you are actually awake so the dentist can communicate with you. While you are sedated, we carefully monitor your vital signs. Nothing is more important to us than your health and safety.
How Does IV Sedation Dentistry Work?
IV means that medication is delivered through your veins. We use a very small needle to access a vein in the top of your hand or in the bend of your elbow. If needles make you uncomfortable, then we can apply a small amount of a topical anesthetic to the site before inserting the needle into the vein. Once the IV starts to run, you will almost immediately feel completely at ease and blissfully unaware.
Advantages of IV Sedation
Oral sedation is ideal for patients with moderate dental anxiety or who need assistance remaining calm during any dental procedure. IV sedation, however, provides a much deeper level of relaxation. With IV sedation, patients are able to relax completely. Along with this sedation, Dr. Mohanna and Dr. Georgy will often need to administer a local anesthetic to ensure that you don't feel any pain.
Many of our patients who have had IV sedation believe they've slept through their treatment. In truth, they remain awake and in a state called twilight. Dr. Mohanna or Dr. Georgy and their staff are still able to speak to you, so you can follow simple instructions such as open your mouth or turn your head. Even so, you probably won't have any recollection of what happened during your treatment.
In addition, Dr. Mohanna and Dr. Georgy are able to adjust the level of relaxation with IV sedation dentistry. By adjusting the amount of sedative you receive, we can quickly increase or decrease the depth of sedation.
Special Instructions for IV Sedation Dentistry
If you are scheduled to have IV sedation, then you will not be able to eat or drink for eight hours before your appointment. You must have a friend or family member drive you to and from our dental office and remain here during your procedure. We also suggest they stay with you for at least a couple of hours after you get back home.
Once IV sedation has started, you are continuously watched. We also monitor your vital signs, including blood pressure, heart rate, pulse and oxygen level. In order to minimize the amount of sedative you receive, our doctors will begin treatment immediately. We work efficiently and your safety is our #1 concern.
You will be given all the time you need to recover in our dental office once the IV is stopped. At home, we recommend that you rest for the remainder of the day. Do not drive or operate heavy machinery for 24 hours after the conclusion of your appointment. Depending on the type of procedure you've had, Dr. Mohanna and Dr. Georgy may have more detailed instructions for your recovery.
Sedation Dentistry FAQs
Are you still curious about sedation dentistry? At 918 Dentist of Glenpool, we want all of our patients to have the information they need to feel confident and comfortable with our treatments. That's why we've included the answers to some of the most frequently asked questions about sedation dentistry. Read on to learn more about how we can use this service to keep you calm and relaxed during your dental visits.
Is Sedation Dentistry Safe?
Sedation dentistry is completely safe as long as it's administered by a dental expert. We have certified sedation dentists in Glenpool on staff who have extensive knowledge and experience with this treatment. Additionally, most dental offices can't offer IV sedation because it requires additional education. However, our highly trained dentists make it possible for patients to enjoy a variety of sedation options, including IV sedation at our convenient location!
Who Should Consider Sedation Dentistry?
Practically any patient who feels emotionally or physically uncomfortable in the examination chair should consider sedation dentistry! These services are ideal for patients who:
Is anxious about dental procedures
Has problems getting or staying numb
Has neck or back pain that causes discomfort in the dental chair
Is afraid of needles or drills
Is bothered by the sounds and smells of the dental office
What Kind of Dental Sedation Is Right for Me?
Because we offer a variety of sedation treatments, you may be wondering which one is right for you. The best way to know is by contacting our dental office for a consultation. You can explain your specific fears or anxieties, and we will recommend the option that works best. Typically, patients with mild anxiety can benefit from nitrous oxide (also known as laughing gas). However, we also have oral conscious and IV sedation dentistry for those with moderate to severe dental anxiety. We understand that dental fear can be powerful, which is why we want to get to know you and your concerns. From there, we can ensure that the treatment we choose will allow you to enjoy effective, relaxing, and pain-free dentistry.
What If I Have Severe Dental Anxiety?
You may be thinking, "I haven't been to the dentist in years due to my fear. There's no way I'll be able to relax at the dentist's office." However, that's why we offer IV sedation—the strongest and most effective option. We can deliver medicine through your veins and directly into your bloodstream for fast-acting and controllable sedation. While you may feel like you're asleep, you'll actually be responsive and awake. During the process, we monitor your vital signs to ensure your health and safety. We are committed to helping our patients feel comfortable and relaxed.
Do I Need Someone to Drive Me to and from My Appointment?
Depending on the type of sedation you require, you may need a ride to and from our dental office. However, nitrous oxide sedation wears off almost immediately, allowing you to drive home and go on with your day afterward. For patients who would describe themselves as overly anxious when it comes to dental visits, we always recommend having someone go with you to your appointment for support. This same friend or family member can drive you home after oral conscious and IV sedation.
If you have any additional questions, please don't hesitate to contact our dental office today !
What Does It Feel Like to be Sedated at the Dentist?
Generally, how sedation feels will depend on the type you receive. Different dental sedatives have varying effects.
For example, consider nitrous oxide sedation. Nitrous oxide or "laughing gas" can make you relaxed, lightheaded, and euphoric. It even causes some patients to feel a tingling sensation in their limbs. As such, the gas is a relatively mild sedation option.
In contrast, oral conscious sedation offers deeper relaxation. It may prompt a patient to doze off. Those who stay awake, though, note that time passes more quickly with this sedation.
Lastly, IV sedation has the same effects as oral conscious sedation. Their intensity, however, is somewhat amplified. (IV sedation is thus the most potent sedation dentistry available.)
Will I Remember Anything with Dental Sedation?
With most forms of dental sedation, you're technically still awake. Still, odds are you won't remember much of your procedure.
You see, temporary amnesia is common with dental sedatives. IV sedation, especially, is known to produce it. That means you likely won't remember your treatment once it's over. This effect is surprisingly helpful, making future care easier for patients with extreme anxiety. (Of course, rest assured that the amnesia is short-lived; it won't affect your memories post-treatment.)
How Long Does Dental Sedation Last?
Truthfully, there's variation in how long dental sedation lasts. Its time span will depend on the kind you get.
Nitrous oxide's effects fade quickly. Once you stop inhaling the gas, you'll feel normal within five minutes or so. From there, you should be well enough to drive yourself home or return to work.
Meanwhile, oral conscious sedation lasts a while. The pill's effects can persist for a whole day. Therefore, you shouldn't drive or operate heavy machinery for 24 hours.
With IV sedation and general anesthesia, the sedative wears off soon after the procedure. That said, you may feel groggy for several hours afterward. You'd thus be wise to have someone drive you home.
Can Dental Sedation Make You Sick?
Technically, dental sedation can make some patients sick. Whether you suffer this effect, though, will depend on your situation.
Overall, nitrous oxide seldom causes sickness. Dentists ensure you aren't given too much. However, the risk does increase slightly as you inhale the gas longer.
Compared to nitrous oxide, oral conscious sedation carries a higher chance of nausea. To compensate, most dentists suggest that you not eat for a while before the procedure. (If you struggle to skip meals, you may want to reschedule your appointment.)
IV sedation also has an elevated nausea risk. Consequently, it also applies the instruction to not eat before treatment.